Eudora 8+
Support: Email: Eudora Configuration
Downloading Eudora
Click here for downloading and install instructions
Configuring Eudora for Cotse
Configure Automatically - Those not real familiar with e-mail setups should choose this. First you will download a file to your Eudora installation and then configuration will be reduced to you selecting POP or IMAP and typing your name and cotse account. Everything will then be securely set up for you.

Configure Manually - Please read carefully and don't get click happy, there is a gotcha where you must properly set up secure connections or it will automatically log in without security or encryption.
Multiple Identities (using our unlimited aliases)
Click Tools-Account Settings select youraccount@cotse.net and click on Manage Identities to add additional From addresses (identities). These will appear in a droplist for the From line when composing and will allow you to easily make use of Cotse.Net's unlimited aliases.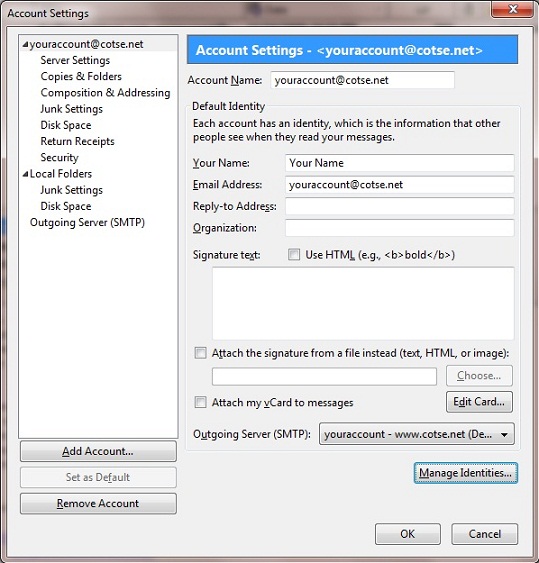 Annoyance Fix #1 - Mailbox column headers missing sent from
For some strange reason the developers have decided that the default mailbox views should only contain the address it was sent to in the headers for mailbox columns. Fortunately this is easily fixed by clicking the little box in the corner of the mailbox and selecting the other Who (which is the from address). Obviously, you can customize your columns to your liking here.

You can adjust the order by clicking and dragging on the headers directly (i.e. not the droplist). Clicking once on any header will sort by that header. Click again to change sort order.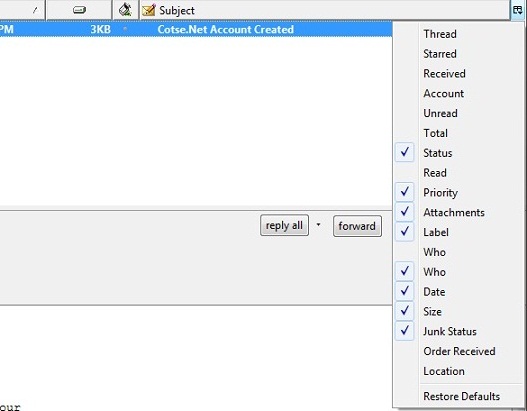 Annoyance Fix #2 - New mail opens in new windows
Another "Who actually thought this was a good default setting?" fix. By default all new mail spawns new windows if it is delivered to a folder other than the inbox. This is a real PITA if you get a lot of mail and filter to many folders. To fix this go to Tools-Options and click on Penelope. Then deselect Automatically open mailboxes that receive new messages and select Open mailboxes in tabs.
Annoyance/Bug #3 - Double clicking a message to open it full page causes loss of mailbox list.
A: Go to Tools-Options, click on Advanced and then Reading and Display and then select A new message window under Open messages in:

B: If it happened and you want to fix it you can either close Eudora and open it back up or go to Mailbox-Local Folders and select a folder. This brings it back. You may need to close other open tabs first. The problem is due to a tab bug that can mirror contents and has been reportedly fixed for the next release. In the meantime making the change suggested in answer A avoids this issue.
Useful Links
Managing your profile (where mail, passwords, and all that jazz are stored). Includes information on moving profile (very useful for storing all your mail and configuration in a secure encrypted container (see truecrypt).

Enigmail - Integrates OpenPGP into Eudora.
Note: For Eudora 8.0b7 you need to select Enigmail for Seamonkey 2.0. Additionally, Firefox users will need to right click the download when you find it on Enigmail and choose save as, save the extension to disk, then from within Eudora choose Tools-Addons then click Install and find the downloaded Enigmail extension. If you don't do this, Firefox tries to install the extension and will tell you it is not compatible.

You must also download and install gnupg to use Enigmail.

Editing Config Files - Change the look, layout, and more.